Your current location:
Home
>>
Production Ability
Production Ability
In-houseing Abilities:Machining and Hot Forging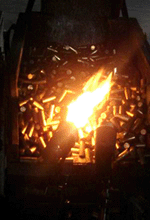 Machining:Screw Machining, Turn machining, CNC milling, Drilling and Tapping

The core segment of our business is our contract machining. Equiped with kinds of computer-controlled single spindle machining, vertical machining centers and manpower facilities etc, SMN can support most of your specific machining requirements from prototypes to large volume productions.
Die-closed Hot Forging: Brass Forging and Aluminum Forging

Forging can be produced in many shapes and sizes. Die-closed forging process can perfectly meet your net shape requirements that will optimize material utilization and reduce required machining. While forging to the required net shape, the physical properties of the part; grain structure, grain flow, strength, and ductility will all be enhanced. Many metals can be used for forging, SMN specialize in two materials: Brass and Aluminum
"Tip":
The most advantage from SMN is organic integrated with forging and machining process together, which result in most efficiency, cost-reduction ways for some products with even higher quality level.
Outsourcing Abilities

In order to meet one-stop purchasing requirements from some customers, We have strong cooperated facilities to offer complete service:
Casting: Die Casting, Sand Casting
Metal Extrusion
Finish Treatments: Polishing, Chrome/Nickel Plating, PVD, Anodizing etc
Key Material We Use

Brass(C36000, C37700,CW614N, CW617N, CuZn39Pb3, Hpb59-1 etc)
Aluminum(Al2024, Al5052, Al6061, Al6063, Al7075, A356 etc)